Products
Services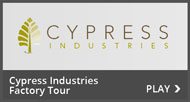 Company Video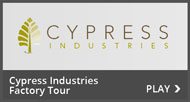 Company Video
Automotive Wire Harnesses
As automobiles are becoming more specialized, their designs require wiring considerations that go far beyond standard wire harnesses. Cypress Industries designs and manufactures custom automotive wiring harnesses for vehicles of all sizes and types, meeting the needs of today's energy markets and the desires of consumers.
We'll work from your drawings or work with you to design automotive wiring harnesses that take full advantage of the wide variety of alternative energy sources, from flexible fuel, natural gas and LPG powered vehicles to hybrid electric and plug-in cars. With manufacturing facilities in Asia and India, including an ISO/TS 16949-certified assembly plant in China, we can build and ship harnesses wherever and however it best meets your needs. And we can manufacture and store components or entire assemblies in any quantity, maintaining first-item quality while processing new orders at significantly reduced lead times.
Our braiding equipment and custom overmolding and potting capabilities allow us to design automotive harnesses for vehicles that will be exposed to any conditions: dust to mud, humid to arid, arctic ice to desert heat. We'll also design and manufacture automobile wiring harnesses that incorporate special features. From extremely elongated luxury vehicles incorporating specialized lighting, audio and video to exploration vehicles that require long-range communications and GPS, we work with manufacturers to craft the right wire harnesses for any type of vehicle. We'll also consider your team's needs, building custom wire harnesses that are aesthetically pleasing and easily understood, minimizing training and installation times.
Our team of engineers and designers will work from your drawings or help you develop aesthetically-pleasing wire harnesses that keep training and installation times to a minimum.
We can design and manufacture automobile wire harnesses in the U.S., India or Asia to optimize turn times and costs, including shipping.
We are an IPC-A-610 certified and a UL & CSA Listed, ISO 9001:2008 certified wire harness shop, as well as a member of the Wire Harness Manufacturers Association (WHMA).
We work with our customers to create ERP systems with complete documentation, making future builds as dependable as the first.