Products
Services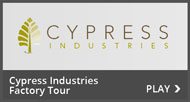 Company Video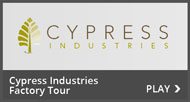 Company Video
Products & Services Guide
Categories
Products are becoming increasingly complex, but as technology accelerates, the marketable window of those products continues to shrink. Producers must respond by minimizing inventory and manufacturing in ways that control costs. Scalability is crucial; companies need to increase or decrease production quickly, while ensuring repeatable builds over time and distance. In a myriad of ways, manufacturing must become more responsive to the marketplace.
Cypress Industries was designed to make it happen.
A Comprehensive Solution
We begin each project by listening. Every customer is unique, and their needs change over time. So we blend a wide range of skills and facilities into the right solution for each project, and alter our strategy as new challenges arise.
The Right Tool for the Right Job
If you're limited to plastics, you miss out on the advantages of metal. If your only focus is electronics, you might not understand how to house them in equipment designed for extreme environments. That's why we bring engineers with a wide range of skill sets and tools to each project we don't try to solve every problem with the same solution.
This is the key to designing for manufacturability. No matter how complex the need or extreme the environment, we can develop a process and a product that meets the challenge. We offer:
Wire Harnesses
Custom Cable Assembly
Custom Control Panels
Plastics & Tooling
Metal Products
Connectors