Products
Services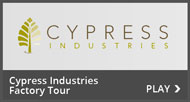 Company Video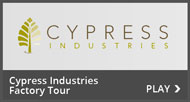 Company Video
Product Design Services & New Product Development
Cypress Industries provides product design services and new product development services utilizing our broad scope of manufacturing and design knowledge. Our engineers use the best tools such as the latest version of Pro-Engineer Wildfire to provide you the best finished products.
Cypress Industries facility in Austin, Texas is different than most design firms in that we not only aid in product design and design for manufacturability,but we can also provide industrial design, rapid prototyping, tooling design and manufacturing, contract manufacturing, packaging design, marketing and distribute your product with our manufacturing and distribution facilities. This, in essence, provides a one-stop-shop for customers in need of simplicity and expediting their time to market. We can provide any or all of the services listed to modify your existing design, or launch your new product.
Please choose from any of the links below to find out more about our services:
The design services and new product development services listed above: industrial design, mechanical engineering, design for manufacturability (DFM), rapid prototyping, tooling design, and packaging design are all performed in Austin, Texas, whereas our Moldflow analysis of all tools is done by our tooling design team at our facility in China.