Products
Services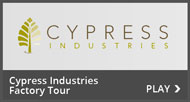 Company Video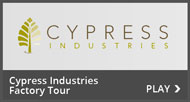 Company Video
Mechanical Engineering
Cypress Industries specializes in low to moderate complexity mechanical engineering services including plastic and metal custom electronic enclosure design, consumer, commercial and high-tech product design, design for manufacturability and materials selection. Cypress Industries not only designs, but also manufactures the products both domestically in Austin, Texas and in Asia. Due to our manufacturing expertise, we are able to focus on providing our customers an aesthetically pleasing design that can also be tooled and manufactured at the lowest possible cost with the best mechanical properties.
For complex projects outside of our general scope of work including electro-mechanical designs we will work with leading industry partners to assist our engineers and come up with a complete product design.
Cypress Industries can design sheet metal enclosures, rack mount chassis, plastic enclosures, ruggedized protective sleeves for electronics products. We also focus on customized cable overmolds and strain-reliefs. Our plastics experts can assist clients with materials selection to obtain your desired characteristics.
Due to the large amount of requests we receive, Cypress Industries also provides design services for a large amount of inventors and product developers for consumer product design. Here we are able to provide a single source for design, manufacturing and distribution of our clients' products if needed.
Cypress Industries mechanical engineering services give our clients the unique ability to include over 100 years of combined manufacturing experience into their designs for plastic and metal custom electronic enclosure design, consumer and commercial high tech product design. This allows our customers to prototype more quickly, complete tooling faster, and get a finished product out to market more quickly then their competitors.
Various Mechanical Assembly Drawings of USB Dongle