Products
Services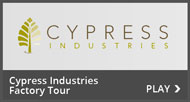 Company Video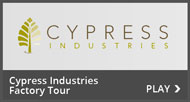 Company Video
Cypress Industries Achieves ITAR Certification
Austin, TX, February 27, 2010
Advanced Manufacturing and Design Services Company Cypress Industries, a leading provider of custom cable assemblies, plastic and metal products, has received ITAR registration from the U.S. Department of State for its Austin, Texas facility.
International Traffic in Arms Regulations (ITAR) is a United States Federal Government regulation to control the manufacture, export and transfer of military and defense technologies, information and services. Any person or U.S. company who wishes to engage in the manufacture and export of articles under the United States Munitions List (USML) must register with the United States Department of State to obtain certification under ITAR. Companies receiving this certification demonstrate that they have the knowledge and understanding to fully comply with the Arms Export Control Act (AECA) and International Traffic in Arms Regulations, as well as having corporate procedures and controls in place to ensure compliance.
"Cypress Industries is committed to providing high quality manufacturing solutions in fields where reliability and security are crucial," said Cypress Industries CEO Tom Lonsdale. "Our unique capability to provide turnkey hardware solutions for a variety of low to high volume manufacturing categories, has lead us to work with a number of major defense-related companies. Being ITAR certified allows us to be well positioned to continue to support these growing programs."
Engineering, quality and manufacturing expertise sets Cypress Industries apart from other custom cable, plastic injection molding and metals manufacturers. Engineers with decades of experience aligned with an ERP and quality system designed to process the most complex metals, plastic injection molding, custom cable assemblies and wire harnesses ensure a high quality, repeatable product. Cypress Industries is ISO 9001:2008 UL certified for manufacturing and design, and is UL certified for wire processing and cable assembly. All cable assemblies and wire harnesses are 100% electrically tested and Cypress Industries is IPC-A-610 and FDA compliant.
For more information, contact Cypress Industries' Austin, TX headquarters at or info@cypressindustries.com.
About Cypress Industries:
Cypress Industries is a vertically-integrated contract manufacturer specializing in custom cable assemblies, custom wire harnesses, plastic injection mold making, custom plastic injection molding and metal castings. Our vertical integration provides us a unique perspective into many different manufacturing techniques which enhances our core competence of assisting customers with design for manufacturability and value engineering. Cypress Industries is one of the few custom cable manufacturers with the engineering expertise to manufacture a wide range of cables including custom cables, custom wire harnesses, electromechanical assemblies, computer cables, custom power cables, custom molded cables, custom RF cables, custom ribbon cable assemblies, military cable assemblies, medical cable assemblies, networking cables, cell phone data cables, HDMI cables and bulk Cat5E cables. With manufacturing facilities in both Dongguan, China and Austin, Texas Cypress Industries is able to offer flexibility in our supply chain for quick-turn or low-cost manufacturing. Additionally, we provide front-end product design services and back-end support including advanced fulfillment, warehousing and third party inspection and verification services.
CONTACT:
Cypress Industries,
13581 Pond Springs Road #315, Austin, TX 78729, USA
phone 512.637.2540 | fax 512.637.2541 |
info@cypressindustries.com