Products
Services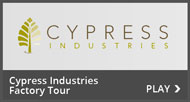 Company Video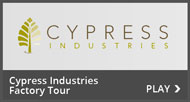 Company Video
Third Party Inspection and Verification Services
With any manufacturing process, there must be steps implemented that details out an impeccable level of quality control as well as design and manufacturing verification. Cypress Industries' Third Party Inspection and Verification Services team provides our customers just that. With our team's combined experience spanning over 20 years, you not only receive the highest quality of Third Party Inspection and Verification, but a professional team who is dedicated to improving processes and solving problems for future production runs.
It is very important to us at Cypress Industries that we can provide ala carte style of services; you can choose what you want or don't want. Or combine a level of Third party Inspection and Verification services that will not only save you time and money, but result in a faster time to market and an ongoing business relationship with a trusted source.
Cypress Industries works with our customers to understand the inspection and verification challenges of their product(s) and together discover opportunities for improvements in material, accuracy, timeliness, reliability, and efficiency. Contact the Cypress Industries 3PL (Third Party Logistics) services team directly to see how we can design a solution that attacks and decreases your bottom line and time to market, at the same time increases your profitability, system integrating, service to your customers and focus on other areas of your business.
When your need for 3rd party inspection services and 3rd party verification arises, you can take comfort in knowing that your supply chain management is in the hands of an organization that takes as much pride and interest in your business and bottom line just as much as you do.
Below is a list of the services we can provide. Please contact Cypress Industries' Third Party Inspection and Verification services management team to help you put together a program that works for you.
3rd Party inspection Services
3rd Party verification services
Defect identification
Product rework & repair
Labeling and relabeling
Logistics management
Inventory management
Warehousing
Packing and repacking
Palletizing
Shipping and trucking logistics
Tracking and tracing
Returns, warranty repairs, refurbishment