Custom Control Panels,
Enclosures and Electro
- Mechanical Assembly /
Box Builds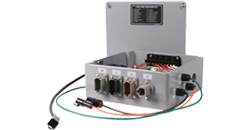 Categories
The Right Materials, Crafted the Right Way
Cypress Industries is one of the most comprehensive electrical control panel manufacturers in the USA. We build custom control panels and control panel enclosures from just about every material you can think of: stainless steel, fiberglass, metal, G10, plastic ABS, PC, PC/ABS and more. We use a broad array of techniques and equipment to develop custom control panels in the way that they will best suit your needs, whether we CNC machine, stamp, extrude, mold, electroplate, or cast the components you require.
From Design to Mass Production, and Beyond
Our team of electrical control panel builders includes some of the most experienced engineers in the field. Whether you already have complete specifications or need us to find a solution customized for your particular needs, we can develop the right control panels and wire harnesses for your operation. In addition to manufacturing, we can store and supply any volume of control panel parts, making Cypress a valuable, long-term operations partner.
It's in the Details
Electric control panels must work perfectly, so the details of their manufacture are critical. We design aesthetically pleasing control panels that make training and repair simple, and precision assemblies with perfectly aligned cable glands and grommets. We'll take the designs and apply value engineering principles to design for manufacturability, then utilize our advanced ERP system to ensure that every part of the process is documented and repeatable. After you approve the First Article, we make sure that each part of the process and each operator's work is inspected and recorded - the only way to make sure that your control panel fabrication is efficient, well-crafted and repeatable.
Our long-term employees have been selected for their unique skill sets. They know how to build assemblies, of course, but they also know how to spot potential problems before they get to the end of the line, and we've developed feedback mechanisms to fully leverage their collaboration. Custom dashboards for each group - receiving, kitting, wire cutting, machining, assembly, final quality control and shipping - allow work orders to move fluidly from one station to another, electronically monitoring each step and every operator. Finished goods can be traced back to individual operators, and each operator is measured against time estimates, to ensure that every piece meets defined quality control, time and cost parameters. This ensures that once you sign off on the first article, each order you place is identical to the last.
Under One Roof
We design, machine, assemble and manufacture custom control panels and wire harnesses under one roof, providing maximum quality control and lower costs than our competitors. We can assemble in the U.S., India or China as needed, allowing us to fill orders in the way that best suits each client, meeting turn times and minimizing delivery costs for any volume.
We are an IPC-A-610 certified and a UL Listed, ISO 9001:2008 certified control panel shop, as well as a member of the Wire Harness Manufacturers Association (WHMA).
We serve a wide array of industries, including: gaming and casino, wind and solar energy, boom crane, industrial and agriculture, government and military, food processing, HVAC and many others.
Our control panels operate any type of equipment in every kind of rugged environment, including pump controllers, metal forming equipment, HVAC pumps and fans, municipal motor controls, pneumatic and hydraulic controls, pulverizer and crusher systems, lift stations, integrated gaming machines, boom cranes, material handling equipment, military equipment, and PLC data acquisition.