Custom Cable
Assembly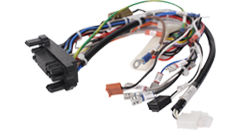 Categories
Cypress Industries, a custom cable assembly manufacturer with facilities in the U.S., China and India, offers a wealth of diverse experience that allows us to build from your specs or design custom cable configurations that address your needs. We work with our customers through every part of the design and production process.
Planning
We work with clients in virtually every industry, designing custom cable assemblies to meet a wide variety of environmental stresses, usage requirements and connectivity issues, based on a comprehensive review of the working conditions and requirements of each assembly.
Working from your specifications, we can design complete cable assemblies on our CAD system, and provide you with final drafts of every facet of the product. From there, we can complete prototype and then full production runs, giving our customers first-article and subsequent approvals as needed.
Manufacturing Options
Specialized, custom premolding and potting, and custom braiding provide abrasion resistance, strain relief, corrosion resistance and waterproofing up to and including IP68 specs for custom cable assemblies that endure moisture, temperature extremes, corrosion and many other hazards.
Careful material selection creates cables that meet plenum (CMP), riser (CMR), and LSZH regulations, and we develop mil spec cables in our certified facilities to maintain security.
We engineer high-precision cable assemblies to meet very precise tolerances and maintain the same level of quality, build after build.
Custom colors and overmolding can be used to decrease installation, training and maintenance times, adding unique shapes and other configurations to the assembly design.
We automate as much of the manufacturing process as possible, including stripping (using Schleuniger strippers), crimping, labeling, and tie-wrapping.
Our facilities include a clean room, enabling us to provide cable assemblies that meet clean room particle standards; please contact us for more information.
Custom dies embed your logo or text into the cable assembly, extending your brand or providing helpful guides for end users.
Specialized power assemblies include shielding and connectivity that allows manufacturers to take advantage of new energy technologies.
Packaging and Shipping
Finished assemblies can be labeled and packaged as needed, including your company's branding in whatever way best suits the project.
We build custom cable assemblies in any quantity, then warehouse and ship as needed, or provide rebuilds using our high-end ERP documentation system, ensuring first-article quality on every piece and every production run.
We operate facilities in the U.S., China and India, allowing our clients the freedom to develop, manufacture and ship cable assemblies in a way that takes advantage of variable development and shipping costs.
Building from your drawings or designing from your specs, we manufacture cable assemblies in the U.S., India or Asia to optimize turn times and costs, including shipping.
We are an IPC-A-610 certified and a UL Listed, ISO 9001:2008 certified cable assembly shop, as well as a member of the Wire Harness Manufacturers Association (WHMA).
We work with our customers to create ERP systems with complete documentation, making future builds as dependable as the first.
Each cable assembly whether built in US, China or India is tested and inspected at each stage of development, allowing us to identify problems and find solutions long before they're put into service.