Wire
Harnesses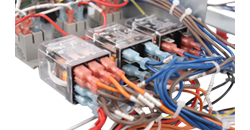 Categories
Our industrial equipment has become as complex as we have. Few machines do just one job - most require some degree of connection between valves, solenoids, sensors, control panels, operators, computers, other equipment and sometimes even the world wide web. Cypress Industries has become a lead developer of the wire harnesses that make these connections possible, bringing innovation and manufacturing together to create highly durable, intelligently designed systems.
We serve customers in every industry - from materials handling and agricultural development to the energy sector; from military operations to the planes, trains and automobiles that keep us moving.
Automotive - As technologies evolve, so does our need to carry them with us. Vehicles may incorporate telecommunications, audio and video, computers and other technology, including GPS tracking and satellite connectivity. We develop wire harnesses that take advantage of all these options, as well as custom vehicle harnesses that incorporate new energy technologies, including Gas Pump wire harnesses.
Oil and Gas - The environments faced by the energy industry are some of the most demanding. The extreme conditions posed by mining, oil and gas exploration and extraction, and the transportation of volatile products require heavy duty custom wire harnesses that are as dependable as they are secure. We design and build custom wire harnesses for all kinds of equipment, using the most technologically advanced materials and techniques to create waterproof, corrosion- and abrasion-resistant harnesses that can withstand whatever conditions they encounter.
Wind and Solar - New energy technologies are no less challenging, and pose unique demands as they move power from solar arrays and wind fields to the grid. We also construct custom wiring harnesses that let consumers take advantage of wind and solar energy, powering batteries and minimizing energy requirements in everyday products.
Gaming - The casino industry demands exactly the kind of dependable, precision wire harnesses we construct. We build custom wire harnesses that power banks of gaming machines and simultaneously collect and report the right data to the right operators.
Construction - Today's construction industry operates under tremendous constraints, erecting buildings quickly while ensuring operator safety. Cypress Industries creates wire harnesses for cranes and other pneumatic and hydraulic equipment that minimize equipment downtime while maintaining control, and utilize advanced potting and overmolding to withstand innumerable bend cycles without lost connections.
Building Maintenance - The equipment used to cool, heat and maintain our buildings operates 24/7/365. From HVAC pumps and fans to lift stations, we manufacture custom wiring harnesses that are highly dependable and carefully designed to minimize downtime, maintenance requirements and installation hassles.
Industrial - Industrial production is an ever changing target. New products come on line and demand for those products rises and falls, often unexpectedly. That's why Cypress Industries has become a dependable partner for so many manufacturers. We work with your team to design the right wire harness for your long-term goals, but we can also help you alter manufacturing equipment as your needs change.
Agricultural - Food processing and agricultural development require equipment that operates in virtually any condition, and changes with the seasons. We can work from your drawings or help you design wire harnesses that meet the evolving needs of the agricultural sector, and conform to the specialized requirements of food processing plants.
Government and Military - Military operations demand equipment that is highly mobile and extraordinarily rugged. We build custom wire harnesses for a wide range of vehicles and equipment in our ITAR-certified facilities, meeting our customers' need for both high-quality products and security.
Our team of engineers and designers will work from your drawings or help you develop aesthetically pleasing wire harnesses that keep training and installation times to a minimum.
We can design and manufacture complete or partial harnesses in the U.S., India or Asia to optimize turn times and costs, including shipping.
We are an IPC-A-610 certified and a UL Listed, ISO 9001:2008 certified control panel shop, as well as a member of the Wire Harness Manufacturers Association (WHMA). Our China facility is ISO/TS 16949 certified.
We work with our customers to create ERP systems with complete documentation, making future builds as dependable as the first.
Every wire harness is tested and inspected at each stage of development, allowing us to identify problems and find solutions long before they're put into service.