Products
Services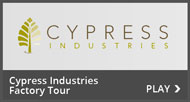 Company Video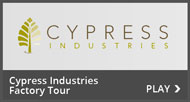 Company Video
Design for Manufacturability (DFM)
Design for Manufacturability (DFM) goes into every new product design at Cypress Industries. This is perhaps our greatest asset as a company to our customers. What has become an increasing trend is outsourcing existing parts to be redesigned for manufacturing to be smaller, lighter and stronger. This cannot always be done, but many times it can save a substantial amount of money.
Cypress Industries when tasked with either new product design or improving existing parts will begin with evaluating the products function and goals. Once we have defined the function, we will move into material selection. With rising materials costs especially in metals, material selection can be one of the most important steps. Many times we are able to specify a different metal that is less expensive, that with secondary processes such as heat treatments can yield a much stronger part at a lower cost.
After selecting the material, we will identify areas we can lighten by removing material and perhaps adding ribs or other features. Many times with less material, we can actually increase the parts strength. This is where knowing manufacturing really helps. Being able to design strengthening features that can easily be tooled saves our clients a lot of money.
One area that we see some of the greatest savings is converting weldments to castings.
Welding takes a lot of time and creates a lot of scrap. By designing parts that can be cast, we are able to cut the manufacturing and material costs drastically.
Another issue for many companies is engineering's availability to update outdated drawings for quality systems or to be requoted. Cypress Industries specializes in converting legacy parts into 2D and 3D CAD prints with tolerances that can be used for quality departments or to be sent out to quote. Therefore, for many of our customers, the engineering departments use us as a drafting resource to help recreate drawings to cost-down existing products.
Design for Manufacturability (DFM) is becoming increasingly important with rising materials costs. Because Cypress Industries not only provides design services, but manufacturing as well, we excel at design for manufacturing. Our design staff in Austin, Texas will be happy to help you reduce costs on your existing or new products.