Plastics
& Tooling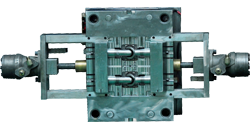 Categories
Cypress Industries is a plastic injection mold manufacturer and plastic injection molding company headquartered in Austin, Texas with China manufacturing facilities in Dongguan, China. We specialize in injection molding plastics design, custom plastic injection mold making and plastics tooling as well as being a premier plastic injection molding company.
Cypress Industries ensures 100% satisfaction on its tools. We provide detailed drawings for customer approvals, and always provide samples for first article approval prior to production, or packaging and shipping the tools. Our custom tools are also designed to fit in whatever injection molding equipment our customers or their suppliers might have. We obtain those dimensions from our customers up front prior to finalizing pricing and drawings. Send us your next custom tooling project for a free reference quote. We guarantee you will be impressed with the savings and quality!
Cypress Industries is a ISO 9001:2000 UL Certified plastic injection molding and tooling company. We can meet the most stringent industry requirements by manufacturing at our US or China plastic injection molding facilities.
Being a plastic injection mold manufacturer with China and US manufacturing facilities we can assist clients with quick-turn or low cost custom tooling needs. The majority of our tools are manufactured in China, and our US plastic injection mold making facilities are used primarily to support customers' ongoing needs or to rework their existing and older tools. Most plastic injection mold manufacturers will manufacture in the US or China. Cypress Industries has a unique advantage with plastic injection mold making facilities in the US and China.
Our plastic injection molding company facilities are located in China, and Austin, Texas. We are able to support customers both domestically and internationally with plastic injection molding machines and mold making facilities in both the US and China. This unique combination gives Cypress Industries an advantage over any other plastic injection mold manufacturer or plastic injection molding company. Because we can manufacture the mold and mold the parts in our facilities we can warranty our tools in the US and China for the number of cycles quoted. Many disputes arise between a plastic injection mold manufacturer and plastic injection molding company when tool damage occurs. This is not an issue if you use Cypress Industries for tooling and molding.
As a plastic injection molding company we are able to design and manufacture plastic injection molding products to our customers' or DME specifications, produce new molds from their CAD files, or reverse engineer plastic parts. We have many different 3D design software platforms to adapt to our customers' system.
Whether your project is a concept or a current project already in production, Cypress Industries can offer any or all of its services and support to help you achieve your goals. Our highly skilled plastics and tooling designers and engineers will walk with you through the entire process; from design and prototyping, to plastic injection mold design, tooling and through final plastic part approval and production. Cypress Industries specializes in value engineering and design for manufacturability (DFM). Please ask us how we can help make your project more successful. We are certain you will not find a plastic injection mold manufacturer or plastic injection molding company able to offer a better all around solution than Cypress Industries.
The tables below give a rough idea of the difference in cost when tooling and production are done in China or in the US. Our engineers help find out the best solution for our customers.
Tool Size / Complexity
United States Tooling
China Tooling
Description
Aluminum Tooling
Steel Tooling
Aluminum Tooling
Steel Tooling
Small Tool - Basic
No longer produced due to low cost of Steel tooling in China & poor lifetime of Aluminum tools
$8-12,000
N/A
$4-8,000
Small Tool - Complicated
$12-25,000
N/A
$6-15,000
Medium Tool - Basic
$10-18,000
N/A
$6-12,000
Medium Tool - Complicated
$16-35,000
N/A
$8-22,000
Large Tool - Basic
$28-90,000
N/A
$25-55,000
Large Tool - Complicated
$75-175,000
N/A
$45-150,000
The table above should be used for approximations only. We require 3D drawings to be able to deliver our clients a formal tooling or injection molding quotation. Lead times for tooling are approximately 4-7 weeks to T1's depending on the tool. Tools manufactured in China, if brought to the US for production will require an additional 5-6 weeks for ocean freight, or one week for airfreight.
Basic tools in the table above are A-B tools without complicated features. Complicated tools have a large range in price because of the cost of features such as hot runner systems, additional EDM features, multi-cavity tools, slides and undercuts.
Part Size / Cavitation
U.S. Plastic Injection Molding
China Plastic Injection Molding
Description
No Second Op's
Second Op's
No Second Op's
Second Op's
Small Tool - Single Cavity
1.1 X
1.5X
1.05X
1.15X
Small Tool - Multi Cavity
X
1.3X
1.1X
Medium Tool - Single Cavity
1.1 Y
1.3Y
1.15Y
1.2Y
Medium Tool - Multi Cavity
Y
1.2Y
1.1Y
1.15Y
Large Tool - Single Cavity
1.1 Z
1.3Z
1.3Z
1.3Z
Large Tool - Multi Cavity
Z
1.2Z
1.2Z
1.15Z
General Rules:
These ratios are estimates only. The pricing can very greatly with cavitation and the complexity of the parts and second operations. Second Operations can involve anything from cleaning parts, overmolding, painting, drilling holes, pad printing, screen printing, partial sub-assemblies etc. Please call to get a specific quote on your part.
Freight – The larger the parts become, the more of a factor freight from China becomes. Therefore, if parts can not be "nested" well medium and larger parts become much more expensive in China.
Volume – In general, China will not run fewer than 5,000 pieces per run per shipment. For less expensive parts, the volume requirement may be much higher.
Lead Time – Production lead-time is about 3-5 weeks for both US and China production, but for freight, you must add on 5-6 weeks if you manufacture in China. Buying container loads will greatly reduce your freight costs.
To get more information about our plastic injection molding company and our capabilities as a plastic injection mold manufacturer with our US and China manufacturing facilities, please click on one the following links: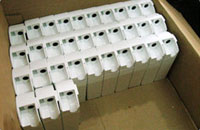 Plastic parts being packaged for shipment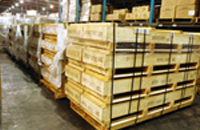 Large part packaging ready for shipping