Products
Services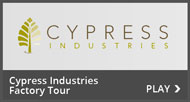 Company Video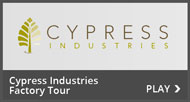 Company Video
Connector Manufacturer
Categories
Cypress Industries is an electrical connector manufacturer that designs and manufactures a wide variety of electrical connectors. These connectors include, but are not limited to, USB Connectors, IEEE1394 Connectors, DVI Connectors, ATA Connectors, Cat5E Connectors, RF connectors, Cell Phone connectors, PDA Cradle Connectors, High-Speed connectors, D-sub connectors, SCSI connectors, custom designed connectors and many others, both in board and cable mount versions. Cypress Industries will design and manufacture to your specific needs.
Because Cypress Industries' is a connector components manufacturer, one of our key competitive advantages is our ability to quickly design and produce the molds required for our manufacturing operations. Due to these efficient processes, our lead times and costs associated with tooling are typically much lower than those of our competitors. All of our connectors are manufactured in Asia at ISO Certified facilities. This gives us the ability to supply a large variety of equivalent Asian electrical connectors, while maintaining quality, and keeping a lower cost structure.
Please call for specific part numbers, model availability and pricing. Cypress Industries has the ability to design and manufacture many types of connectors for very fine pitch applications. Many of these models are available as board mount or cable mount connectors.
All Cypress Industries products are 100% inspected and electronically tested. Please choose from the following types of connectors to get more detailed information, or call for models not listed.