Cypress Industries employees gather together to celebrate record sales month Vying for the "Triple Play Champ" title,
Cypress employees celebrate company historical milestone
Austin, TX, September 10, 2007
Cypress Industries celebrates the all-time record sales month with the entire company in an afternoon of food, fun and games held at Main Event in northwest Austin. July of 2007 topped the companies' monthly sales record that exceeded the previous record by 30%.
As an appreciation for all the hard work and dedication, Cypress sponsored all employees to attend the event to share a company presentation, a photo slideshow of the previous 5 years, lunch, and team games and activities. The 32 employees were split up into teams of four to compete in a triple-play event consisting of bowling, laser tag and arcade games. Each individual competed for points in each game that were in-turn combined with their team members' to get an overall score. Prizes and awards were given for the various categories of events and overall performance. It was an afternoon of fun, teamwork and friendly competition.
Team results are as follows:
1st Place Overall – Triple Play Champs – GOLD DIGGERS
(l to r) Chris Fetters (Machinist), Tom Londsdale (CEO), Chris Pearson (Design), Tori Williams (Production Quality) Other team awards: 'Sharp Shooter Award (Laser tag)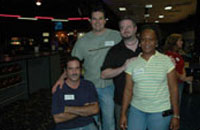 2nd Place Overall – HIGH FIVES
(l to r) Chris Collins (Shipping/Receiving), Matt Conkey (Sales Manager), Jesse Herrera (Outside Sales), Lori Barr (Accounting Assistant)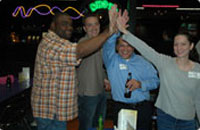 3rd Place Overall – FAST ROLLERS
(l to r) Chip Williams (Fulfillment), Gregg Jackoskie (Production Supervisor), Gernot Burmeister (Outside Sales)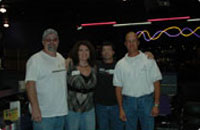 HIGH STRIKERS
(l to r) Teri Gribble (Quality Manager), Andy McNeil (Plastics Production), Meagan Garcia (Inside Sales Assistant), Anna Gonzales (Controller) Team awards: 'Gutter Cleaner Award' (Bowling)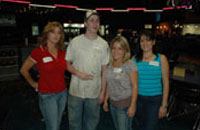 GUTTER GODS
(l to r) Kathy Wright (Inside Sales Assistant), Brian Nesuda (Operations Manager), Dave Benker (Industrial Sales), Jennifer Gentry (Inside Sales) Team awards: 'Atomic Fireball Award' (Arcade), 'Swiss Cheese Award' (Laser tag)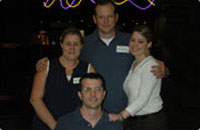 PIN HEADS
(l to r)

(Director of Business Development), Trini Martinez (Production Lead), Anthony Brown (Shipping/Receiving) Team awards: 'High Roller Award (Bowling), 'Iced Iced Baby Award' (Arcade)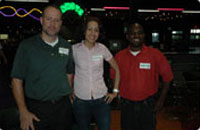 BOWLING BABES
(l to r) Chad Stearns (Plastics Production), Brad Cunningham (FIS), Bill Field (Outside Sales), Michael Yeh (Asian Operations)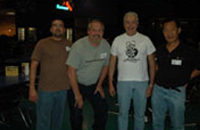 About Cypress Industries
Cypress Industries is a manufacturing and services company that accelerates time to profit for electronic, plastic and metal components and products. Since 2001, Cypress Industries has delivered unique solutions to our customers' most challenging design, manufacturing, fulfillment and logistics problems while allowing them to focus on their core businesses. Atypical of most manufacturing companies, Cypress Industries applies creativity, extensive industry knowledge and a relentless pursuit of customer satisfaction to solving manufacturing problems without regard to size or complexity. Our ISO 9001-certified offshore and UL certified domestic facilities ensures manufacturing consistency and high-quality finished products. By offering lower tooling costs and shorter lead-times, Cypress Industries designs, engineers and fulfills high-quality electronics components, metals, plastics and finished products quicker and more cost-effectively than many other manufacturing companies. Cypress Industries' headquarters is in Austin, Texas. More information about Cypress Industries can be found at www.cypressindustries.com.
CONTACT:
Cypress Industries
512.637-2547
[email protected]