Austin Manufacturers form Association - ARMA
Austin, TX, February 27, 2013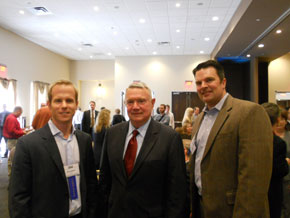 Ed Latson of TMAC, Mayor Leffingwell, Tom Lonsdale of Cypress Industries
FOR IMMEDIATE RELEASE
New Organization Serves Austin Area Manufacturers
U.S. manufacturing continues to strengthen, and Austin manufacturers want to make sure that business comes to Central Texas.
A group of local leaders recently formed the Austin Regional Manufacturers Association (ARMA) to develop collaborations between government organizations, educators and the local community; provide new employment opportunities; and strengthen the region's economic prospects. This effort has already attracted the attention of Austin legislators: Austin Mayor Lee Leffingwell addressed the first of the organization's regular luncheon meetings on February 27 at the Norris Conference Center. Mayor Leffingwell spoke on the importance of manufacturing to the Austin area economy and the number of companies his economic development team is bringing to the city annually.
Tom Lonsdale, acting Chairman of ARMA, praised the Mayor's team for bringing new companies to the Austin area, but he also addressed the need for support from other organizations. "While the City and the Chamber of Commerce are attracting new companies, few organizations are attracting a technically skilled workforce. In some cases, local manufacturers are forced to steal talent from one another, because the pool of well-trained employees is either too small or nonexistent. One of ARMA's primary goals is to enable government agencies and other organizations, such as the Skillpoint Alliance, to recruit and train new workers in the Austin area."
Several trends are driving the need for more skilled workers. A recent survey of 200 manufacturing industry leaders, conducted by Travelers (NYSE: TRV), found that 88 percent had either hired new employees in the last year, or planned to do so this year, and 75 percent expanded their products and services in the last year, or intended to do so this year. According to the Labor Department, 227,000 manufacturing jobs were created in 2012.
But not all manufacturing jobs are created equal. The U.S. tends to export high-value products, including electronics and manufacturing equipment, while importing low-value, low-margin products, according to a study from the research department of Standard Chartered. For example, an electronic gadget manufactured overseas would be assembled on a high-tech machine that was designed and built in the U.S. To build that machine requires technically skilled employees, which are becoming increasingly difficult to find.
"Those cities that invest in the labor pool are going to see tremendous returns on that investment," says Lonsdale. "The jobs are there, we just need to make sure that we are educating and retraining people to fill those jobs. Collaboration between education, government, and employers will benefit everyone and invigorate the local economy. Cities, like Austin, that recognize and encourage these developments will lead the next economic boom."
About Cypress Industries
Cypress Industries is a manufacturing and services company that accelerates time to profit for electronics components and products. Since 2001, Cypress Industries has delivered unique solutions to our customers' most challenging design, manufacturing, fulfillment and logistics problems while allowing them to focus on their core businesses. Atypical of most manufacturing outsourcers, Cypress Industries applies creativity, extensive industry knowledge and a relentless pursuit of customer satisfaction to solving manufacturing problems without regard to size or complexity. Our ISO 9001-certified offshore UL certified domestic facilities ensures manufacturing consistency and high-quality finished products. By offering lower tooling costs and shorter lead-times, Cypress Industries designs, engineers and fulfills high-quality electronics components, metals, plastics and finished products quicker and more cost-effectively than many other manufacturing companies. Cypress Industries' headquarters is in Austin, Texas. More information about Cypress Industries can be found at www.cypressindustries.com.
In response to industry growth, Cypress Industries also provides metal castings and plastic injection molding through its Industrial Division. Locate more information about Cypress Industries Industrial Division at
CONTACT:
Cypress Industries
512.637-2547
[email protected]