Cypress Industries Expands Manufacturing Globally to Noida, India
Austin, TX - May 9, 2013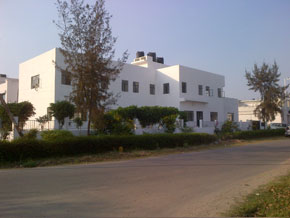 Cypress India Factory
AUSTIN, TX - Cypress Industries today announced the opening of a new manufacturing facility in Noida, India, near the city of New Delhi, the first wholly owned overseas subsidiary of an Austin-based cable or wire harness manufacturer. The new manufacturing facility is the result of two years of planning, and will provide customers with high-volume, high-complexity production options while opening new markets overseas.
The new ISO 9001:2008, ISO 14001 & OHSAS 18001-certified facility mirrors the existing manufacturing space in Austin, with a team of designers and engineers that develop production solutions covering an extremely diverse set of products, including equipment for industrial and rugged operations, oil and gas extraction and exploration, solar equipment, automotive manufacturing and agricultural machinery.
Schematics and production protocols can be developed in the U.S. and executed in India, but the process may also be reversed, allowing customers on both continents to design and produce materials in whatever fashion minimizes costs and expedites logistics. The enterprise resource planning (ERP) systems already in use at the Austin location will be completely duplicated in the new India facility, enabling engineers in both locations to monitor and evaluate the entire production run and collaborate seamlessly.
Tom Lonsdale, CEO of Cypress Industries and acting chairman of the Austin Regional Manufacturers Association, sees this as an opportunity for companies here and abroad. "We're pursuing new clients in South America and Europe, and we've already been fielding inquiries from new customers in India. We're making it possible for mid-size companies, both in the U.S. and overseas, to access a highly skilled workforce that can produce complex products in high volume."
Commanding the new facility will be V. Shekhar, a name well known to anyone in the Indian cable and wire harness industry. His experience includes overseeing more than 2000 employees at one of the largest export & domestic cable assembly companies in India. "We'll be increasing Cypress' output by more than ten times, to 500,000 pieces per month, while maintaining the standards that the Austin facility already applies to complex projects," commented Shekhar. "But I am most excited about the collaboration between my team in India and the people I've met here in Austin. Cypress will be the preeminent cable and harness manufacturer in the region, and make it possible for many more local companies to compete on a global basis."
Lonsdale sees this new facility as another reason why Austin is becoming a focus for manufacturing activity. "We're expecting a growth rate of around 45% for 2013 to 2014 - more than double the rate from 2011 to 2012 — as a result of this expansion. But that's not just good for us, it's good for the entire area. Manufacturing now accounts for twenty percent of Austin's gross metro product, surpassing every other industry. As we continue to provide great value for the dollar, more and more industries are taking notice, and choosing Austin as the right place to do business."
CONTACT:
Cypress Industries
Tim O'Grady
512.637.2551
[email protected]