Products
Services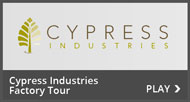 Company Video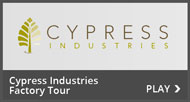 Company Video
Tooling Design
Cypress Industries does tooling design both in Austin, Texas and China. We manufacture aluminum rapid tooling in Austin and high volume steel tooling in China. In order to do this we need tooling designers both in Austin and China.
Cypress Industries performs a tooling design review on all the tools it builds in the US and China. Here a team of tooling and plastic injection molding experts evaluate the tooling designers prints and go through a checklist of parameters they are looking for prior to machining on the tool. Moldflow is done on all tools manufactured in the US and China to confirm analysis done by the tooling design review group. Moldflow is performed at our China facility due to the cost and time intensive nature of the study. Results are then sent to our tooling design review group in Austin and to the customer if they request, for evaluation and recommendations.
Examples of Moldflow reports can be seen by clicking on the link below: View PowerPoint Moldflow Example
Before performing a Moldflow analysis it is important for our team to gather a great deal of information about your parts such as material selection, cavitation, critical tolerances and any other specifications you may have such as runner or cooling system.